Modern Balcony Design
Do you want to create a modern, stylish outdoor living area? Balconies are the perfect place to take your home's style and design outside, with stunning views and beautiful, functional spaces. With so many creative modern balcony designs at your disposal, chances are something will work for any size space you're working with – all it takes is a little creativity!
In this blog post, we will look at some inspiring ideas for making the most of your balcony space by transforming it into an attractive outdoor oasis through the creative use of materials, lighting fixtures, and layout.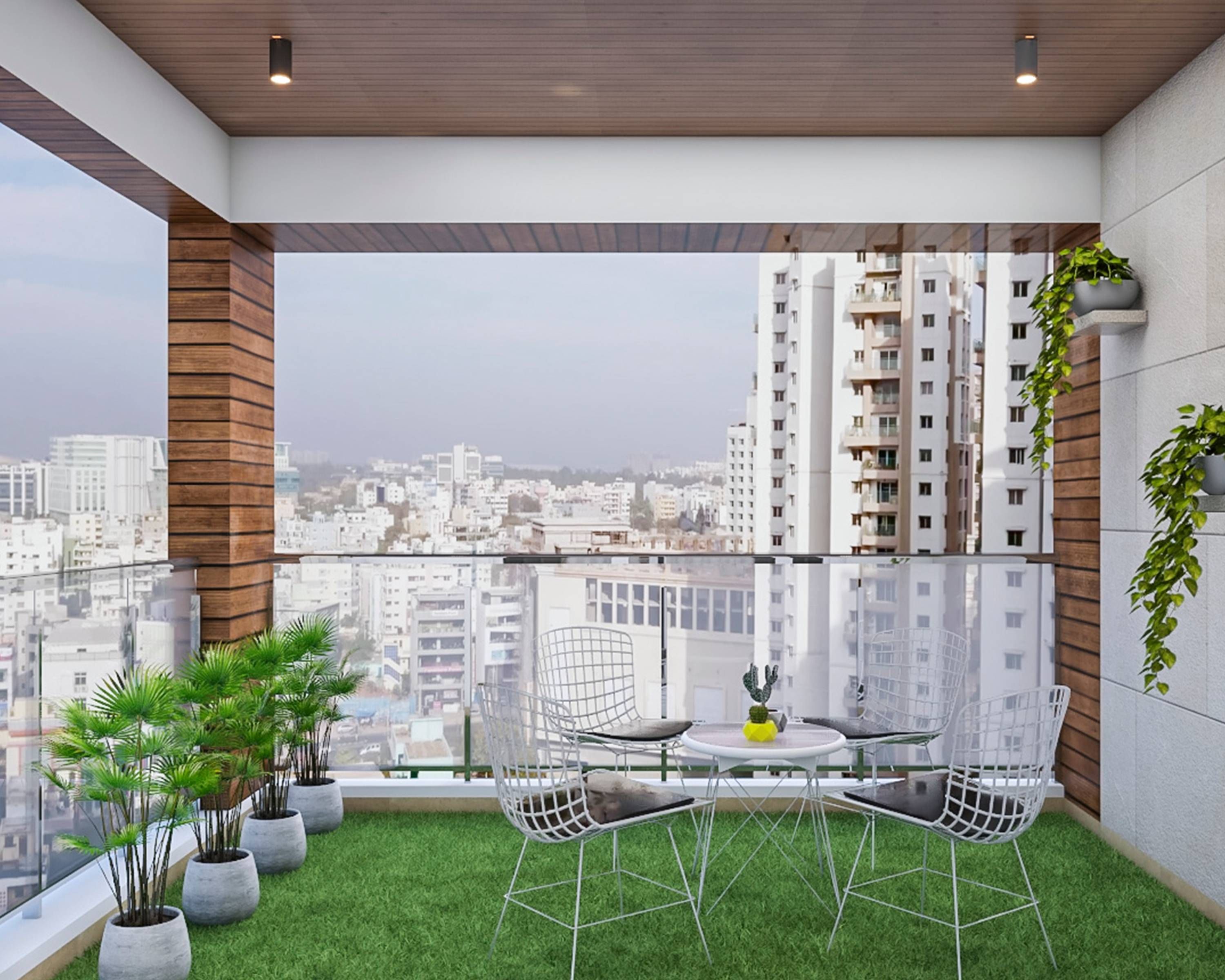 Best Modern Balcony Design
Hang Plants and Greenery
Hanging planters is an easy way to add color and life to your balcony without taking up too much space. Hang potted plants, trailing vines, and even herbs of different sizes and shapes from the railing or create a vertical garden with wire pockets – this will give the space a vibrant look while softening any harsh edges.
Add Seating Areas
Create cozy spots on your balcony using comfortable furniture such as benches, chairs, and bean bags. You can arrange these seating areas in various forms, like an L-shape that hugs the corner of the balcony or form them into small groupings for intimate conversations with friends.
Include Mood Lighting
Mood lighting is an easy and effective way to give your balcony a stylish makeover. You can use solar-powered fairy lights or string lights hung around the railing or draped over plants and walls to create subtle, dim lighting in the area.
Create Privacy With Curtains
If you want privacy on your balcony, curtains are the perfect way to achieve this. Hang up lightweight fabric curtains along the sides of the balcony to divide it from adjacent balconies without blocking out too much light or visibility.
Make Use of Wall Art
Hang art pieces such as photographs, paintings, and prints on your balcony walls to add a touch of personality and color to them. Choose wall art that reflects your style and that you enjoy looking at so that the balcony becomes a place of inspiration and relaxation.
Invest in Waterproof Furniture
Investing in waterproof furniture such as wicker chairs, plastic tables, and deck chairs will enable you to keep your furniture on the balcony even when it rains or snows – this is especially essential if you want to use your balcony all year round.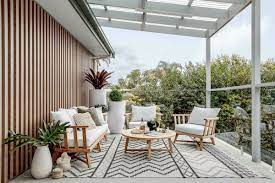 Install Outdoor Carpeting
Outdoor carpeting is a great way to add warmth and coziness to an outdoor space like a balcony. You can choose from weather-resistant carpets with different patterns and textures to give the area style while protecting it from dirt, dust, and moisture.
Add a Touch of Nature
You can bring nature inside your balcony by introducing potted plants, hanging planters, and water features such as bird baths and fountains. This will give the area a lush look and create a peaceful atmosphere.
Create an Outdoor Kitchen or Bar Area
Install a small kitchen counter with built-in seating to create your balcony's outdoor kitchen or bar area. You can use this space to entertain guests, cook meals outdoors, or sip wine as you enjoy the view.
Hang Mirrors
Hang mirrors around the railing or on walls to give the illusion of depth and make the area appear bigger than it is. Mirrors also reflect natural light during the day, making the area seem brighter and more inviting.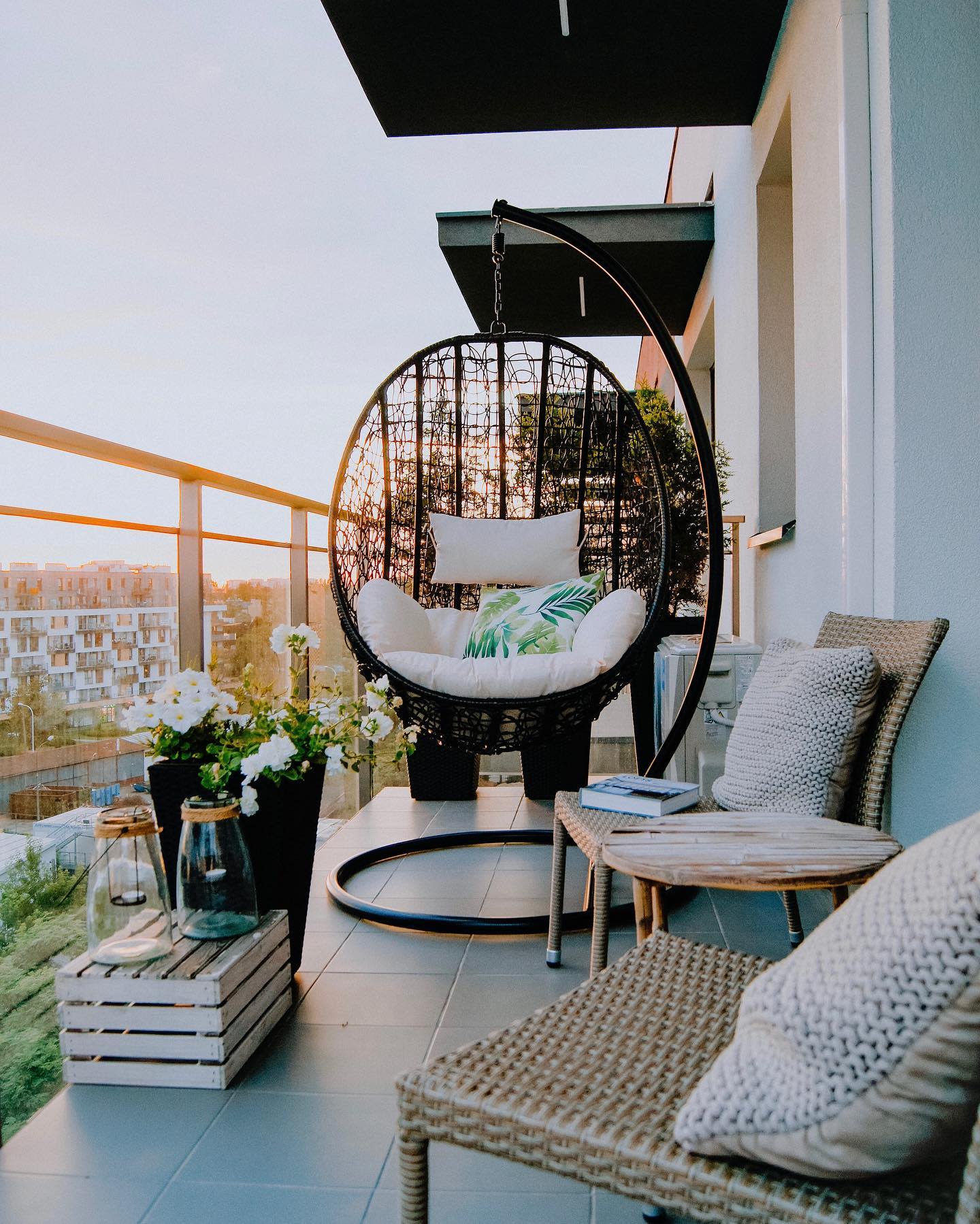 Introduce Colorful Accents
Introduce color to your balcony with brightly-colored furniture pieces or cushions. You can even paint a mural on one wall of the space – choose something that reflects your style and that you enjoy looking at to create an attractive focal point in the area.
Install Wall Shelves
Installing wall shelves is a great way to organize items such as outdoor plants, books, candles, and vases while utilizing unused space. Consider adding small lights underneath each shelf to illuminate when night falls.
Include Outdoor Furniture Covers
Outdoor furniture covers are essential to protect your outdoor furniture from the elements. Choose weather-resistant covers in a neutral color that will match the balcony's overall look.
By implementing these, you can easily and cost-effectively transform your balcony into an attractive and functional modern living space for enjoying the outdoors!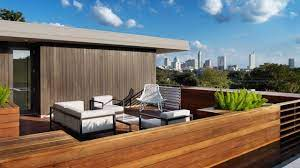 Choose Modern Materials for Modern Balcony Design
Glass railings
This modern material will not block the stunning views, allowing natural light to enter the balcony.
Artificial grass
Artificial grass is a great way to bring the outdoors indoors and add a touch of greenery to your balcony. It is low-maintenance, easy to install, and provides a comfortable seating space during warm days. Additionally, artificial grass is resistant to fading and won't need to be replaced as often as natural grass.
Steel frames and supports
Steel frames and supports will provide a modern look to your balcony while being strong enough to support the weight of any furniture. The sleek steel design makes it perfect for creating an urban look on a balcony. Additionally, steel frames are resistant to weather and can be easily maintained.
Aluminum beams
Aluminum beams are the perfect choice for modern balconies as they provide a lot of structural support while allowing plenty of natural light to enter the space. Additionally, aluminum beams are resistant to rust and corrosion, making them a great option for any balcony design.
Composite decking
Composite decking is a great option for creating a modern and stylish outdoor living space. Composite materials are resistant to weather and UV rays, so you can rest assured that your balcony will look beautiful for years. Composite decking comes in many colors and textures to complement any style.
Wood cladding and laminates
Wood cladding and laminates are perfect for a modern, stylish look on your balcony. They come in many different colors, patterns, and textures to create a visually pleasing and easy-to-maintain unique look.
Waterproof textiles
Waterproof textiles are a great choice for covering balcony furniture and cushions as they protect them from the elements. They come in a range of colors and patterns to create a stylish and practical, unique look.
Acrylic patio furniture pieces
Acrylic patio furniture pieces are perfect for creating a modern outdoor living space as they are lightweight and durable. They come in various shapes and sizes, making them easy to move around and rearrange as needed.
Plus, acrylic furniture pieces are waterproof, so you can relax knowing your furniture will be safe from the elements. The expansive balcony includes a dining room, balcony railings, and a guest room.
Lighting fixtures with IP ratings for outdoor use
Lighting fixtures with IP ratings for outdoor use are perfect for creating a modern look on your balcony. They come in various styles, sizes, and colors to match your balcony decor and provide plenty of light for the space. Plus, they are waterproof, so you can relax knowing that your lighting fixtures will be safe from the elements.
Automated shades and awnings for sun protection
Automated shades and awnings provide sun protection while creating an inviting outdoor living area. They come in many colors, styles, and sizes to match any decor. Also, they are easy to install and require minimal maintenance over time.
Weather-resistant rugs and carpets for warmth and comfort
Weather-resistant rugs and carpets are perfect for adding warmth and comfort to your balcony. These pieces come in various colors and materials to match any style. Plus, they are easy to clean and maintain, ensuring your balcony looks great all year round.
By incorporating these materials into your modern house balcony design, you'll create a seamless blend of style and functionality that will give you the perfect outdoor living space!
Tips for Maintaining the Health of Your Modern Balcony
1. Regularly clean and treat the materials used on your balcony to prevent weathering, mold, or mildew damage.
2. Inspect for any rot or corrosion signs to maintain structural integrity.
3. Trim back overhanging branches that may cause damage to your balcony structure or furniture.
4. Repaint surfaces as needed to keep balconies looking fresh and vibrant.
5. Apply a waterproof sealant annually to protect against water damage and staining.
By following these tips, you can ensure the health of your modern balcony and enjoy it for years to come!
FAQs
How much value does a balcony add?
A well-designed balcony can add considerable value to your home. It provides extra usable square footage and outdoor space to relax, entertain, and enjoy the view. A stylish balcony can also increase your home's curb appeal, making it stand out among other properties in the area.
What kind of balcony railing is available?
Various materials are available for balcony railing, including wood, metal, and glass. Wood is the most popular option because it provides privacy while allowing sunlight to filter through. Metal railings are more modern and often much stronger than wood, while glass railings provide an open view and create an airy feel.
What is minimalist balcony design?
Minimalist balcony design is all about creating an uncluttered and modern look with basic materials, neutral colors, and simple shapes. It is focused on function rather than decor and strives to create a space that is efficient and visually pleasing.
What kinds of plants can I use in my balcony garden?
When choosing plants for a balcony garden, consider what kind of light they need and how much space they will take up. Low-maintenance plants like succulents and herbs are great options, as well as hanging plants in baskets or pots with vines such as ivy or English ivy. You can also try large potted trees like figs or citrus if you have space and light.
What materials should I use for my balcony?
The materials you choose for your balcony should suit your style and the climate you live in. For example, wood is popular because it's attractive and durable, but it may not be suitable if you live in an area with hot summers.
Alternatives include composite decking, which looks like wood but is more weather-resistant, and stone or tile, which are great for high-traffic areas.
How can I make my balcony look expensive?
Creating an expensive-looking balcony doesn't have to be expensive. Invest in a few high-quality pieces of furniture that will last and can be used again, such as outdoor dining sets or lounge chairs. Add luxury touches with decorative pillows and throws, and use lighting fixtures to highlight the space.
How do I maximize space on a small balcony?
A small balcony doesn't have to be limiting. Multi-functional furniture, such as a daybed or convertible seating, can provide extra space for lounging and sleeping without occupying too much room. You can also hang planters from the ceiling or attach them to walls to save balcony floor space while still having greenery around you.
Conclusion
I hope this article has given you some ideas for transforming your balcony into a modern, stylish, inviting outdoor living area. Balconies are the perfect place to take your home's style and design outside, with stunning views and beautiful, functional spaces. You can turn any balcony into a luxurious outdoor oasis with imagination, creativity, and the right materials!